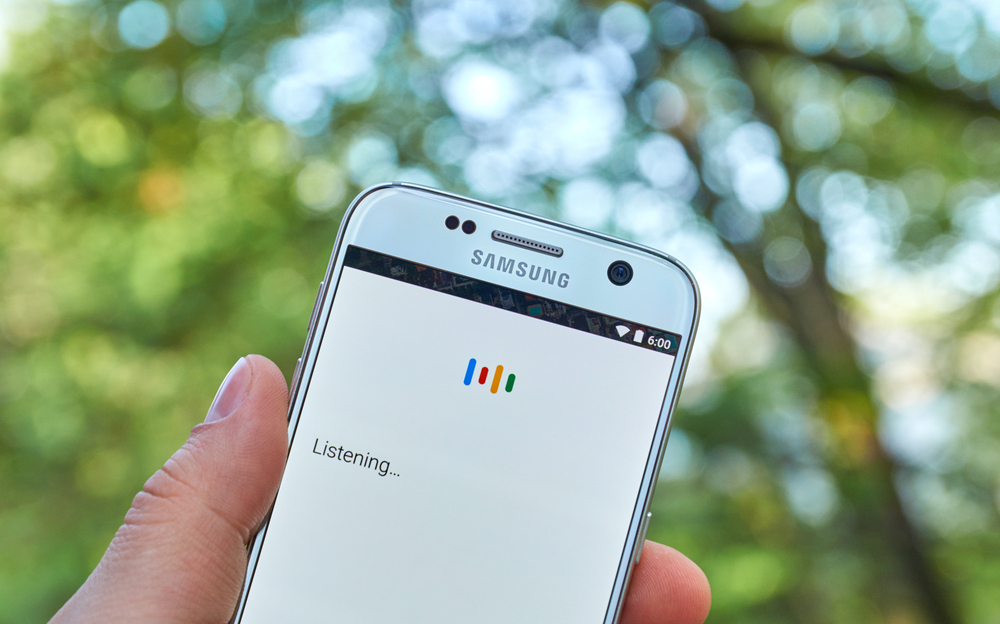 The convenience brought about by saying, "Hey, Google" to perform a query has now turned science fiction into reality. We can find out what's going on with the weather, send a text message, turn on the TV, or make a restaurant reservation all without looking up from your dinner plate.
Voice recognition technology has gone a long way since its inception, revolutionizing voice search through modern devices such as our Android-powered smartphones and smart speakers like Amazon's Alexa. Pretty soon, we won't have to type in commands or queries when asking our devices to do a task for us.
The role of Google Assistant has been key to advancing the voice search revolution. It has presented new opportunities for businesses to become competitive as Google opens more ways to rank in search results. If a user asks a question, you can be the one single answer Google Assistant can speak of when answering a query. Imagine the possibilities this can benefit your business.
A Brief History of Google Assistant
In the center of all this continuously advancing voice search technology is Google Assistant, the search engine giant's very own virtual assistant that helps users find what they're looking for through voice recognition technology. This artificial intelligence-powered search feature is what's making the future happen now. However, it hasn't always been this way.
Looking back, it's clear that Google's AI owes a lot of what it is now to at least two past services. The first and considered the oldest part of Google Assistant is Google Voice Search. It made its first appearance on Android-powered smartphones and the Chrome browser for computers back in June 2011. While the way it functioned was basic compared to today's standards, the way we could give our phones voice commands sparked a massive change in the way we started to interact with technology.
But when Google Now entered the scene, it marked a massive shift in artificial intelligence. It was built on Google Voice Search and was code-named "Majel" after Majel Barrett, second wife the man behind Star Trek, Gene Roddenberry, and voice actress of most onboard computer interfaces used throughout the series. This Easter egg clearly shows Google's intent to achieve Star Trek's utopian tech.
Google Now formed the framework of Google Assistant's highly personalized service. It was first introduced in Android 4.1 Jelly Bean, which helped deliver your schedule, the weather, and other useful information through cards and notifications.
While Google Now was serving its purpose on Android smartphones, Google Assistant had its humble beginnings as an extra feature on Google's Allo chat app. It was first tasked to pop up when needed or when invited. Its function was limited, but it wasn't long before Google Assistant broke free of its limiting chains and had its first starring role in the original Google Pixel and Google Home.
Google Assistant finally achieved superstar status when it arrived on smartphones starting from Android 6.0 Marshmallow and above back in 2017. This has put Google voice search on the map, and the rest, as they say, is history.
Google Assistant Statistics, Facts, and Trends for Your Voice Search SEO
1. Nearly 70 percent of requests to Google Assistant is delivered in natural language, and not the standard keywords typed in when performing a web search.
Voice search is changing the way we perform queries on the internet. What once was focused on keywords, has now evolved to asking questions or stating commands in a conversational and hands-free fashion. This kind of convenience is proving useful to users who are frequently on the go or multitaskers who always have their hands full.
This kind of search query is changing the way businesses rank on search engine results pages. So instead of ranking for specific keywords in standard search engine optimization, you'll be taking a different route since your objective is to claim position zero, or what's called the featured snippet section of search results.
A featured snippet is your ultimate goal if you want your business to appear in voice search results as the best answer to a query asked in natural language.
2. Based on a digital assistant IQ test made up of 800 questions, Google Assistant delivered the most accurate answers, garnering a score of 86 percent.
As part of an ongoing effort to better understand the practical use and the rise of voice as a computing input, regular tests are done to digital assistants and smart speakers. After focusing solely on smartphone-based digital assistants, it seems that Google Assistant got the better of Cortana, Siri, and an Alexa-powered iPhone.
In an impressive performance, Google Assistant understood all 800 questions under different categories. It convincingly showed that Google Assistant has the edge in the Local, Commerce, Navigation, and Information categories, but was outdone by Siri in the Command category.
One of the largest discrepancies in score was in the Information category, where Google Assistant achieved the highest percentage at 93 percent. This stems mostly from its "featured snippets" search function, which is the holy grail when it comes to voice search.
3. Active users have quadrupled since last year, and Google expects the Assistant to be available on one billion devices.
Google is continuously making improvements to the Assistant to make sure it's evolving as AI technology advances. In 2018, it learned to speak new languages, expanded to new countries, and became smarter with all its new features that can help you throughout your day.
Google had a great 2018 when Google Home notched another record year after selling millions of Google Home family of devices during the holiday season. Google Assistant was also taught to speak new languages and understand local cultures, with 30 languages and 80 countries under its belt, a significant increase from eight languages and 14 countries the previous year.
4. Google Assistant is compatible with over 10,000 smart home devices from more than 1,600 popular brands.
The smart home trend is slowly picking up with Google Assistant now entering the fray. More people recognize the fact that devices powered by a virtual assistant can help run a smart home more efficiently. Just last year, the number of smart devices that have been connected to Google Assistant increased by 600 percent.
A total of 52 million Google Home devices were sold worldwide in 2018, and this number is expected to grow as the technology gets better and more devices become compatible with the actions it can execute.
5. Google Assistant has become a smarter conversationalist to better understand and respond to you naturally.
Google recently introduced the Continued Conversation setting, which allows you to have a natural conversation with the Assistant. It can also understand more complex requests, so you can ask about many things in one query such as, "What's the weather like in Los Angeles and New York?"
As Google Assistant gets smarter, expect users to become more comfortable in adopting and adapting the technology. For this reason, businesses should shift their focus on Google Assistant voice search SEO.
6. Around 65 percent of people who own a Google Home can't imagine going back to the days before they had a smart speaker, and 42 percent of them say voice-activated devices have become essential in their lives.
You can't blame these folks who already had a taste of what's it like to have Google Assistant to help them get through the day. Voice recognition technology has come a long way, and Google Assistant is the most advanced AI currently running these devices.
Despite these impressive numbers, the days of digital assistants are still in its infancy, and there's a lot more to look forward to in terms of the development of the technology.
7. Google Assistant was the most popular voice assistant for shopping-related research at 24 percent.
Millennials are known to be the generation who mostly cater to the e-commerce industry. Beyond smart speakers, Alexa typically trails Google Assistant by a more considerable margin since it lacks a smartphone OS, but in this retail-specific sector, two-thirds of millennials in the study said that more than of their online shopping activity was done through Amazon.com.
So if you want your business to influence millennials to shop online using Google Assistant, you'll need to optimize your website for Google voice search. Keep in mind that showing up in the knowledge graph alone may make your product or service discoverable, but it's still going to miss big parts of your market. You should always aim for the featured snippet place so that you can come up as an answer in a specific query related in your industry.
8. Google Assistant actions hit a total of 4,253 in January 2019, which is up 2.5 times in the past year, but just 7.5 percent of Alexa's total skills in the US.
Artificial intelligence plays a vital role in the development and growth of digital assistants. Google Assistant's actions may have grown to 2.5 times last year compared to 2.2 growth for Alexa's skills. However, Google Assistant's action growth was taken from a much smaller base. As of January 2019, Google Actions in the US officially reached 4,253, which is about 7.5 percent of Alexa's 56,750 skills.
Three of the 18 categories cover a third of all Google Actions listed. On top of the list is the Education and Reference category, accounting for 15 percent of all listed Actions. Games and Fun together with Kids and Family came in at 11 and 9 percent respectively. Surprisingly, the least popular were Local and Weather.
Weather makes sense since it's considered as a narrow topic. Local is not all that narrow, but this is likely because only a few smaller organizations have tried to optimize for Google Assistant voice search.
9. 76 percent of parents say they typically use their smart speakers while doing other things, compared to 62 percent of non-parents.
It seems that parents find it more convenient to use Google Assistant-powered smart speakers than their non-parent counterparts. Parents generally have their hands full when tending to everything they need to do at home while looking after their kids. It's a tough job, but smart speakers can help make their lives easier.
Running the kitchen can be one of the most difficult to manage while taking care of children. A Google Home device can help them do other tasks while preparing a meal. Parents can set a timer and have Google Assistant notify them if they need to take something out of the oven. In a time-sensitive and busy place like the kitchen, Google Assistant can prove to be invaluable when kids are around.
10. Duplex is set to change the game as being the smartest chatbot there is.
Google is now moving a step forward in upgrading its artificial intelligence technology with Duplex, an extension of Google Assistant that's able to carry out natural conversations by mimicking the human voice, including fillers, common phrases, intonation, and response latency to exactly sound like you're speaking to a real person.
While Duplex can autonomously carry out a conversation, it can also recognize situations where it cannot complete a task and sends out a signal to a human operator to finish it. Duplex is currently in development and had a limited release in 2018. During the presentation, Pixel users can call to schedule an appointment at the salon or book a restaurant reservation as easy as asking Google Assistant.
Conclusion
Google Assistant has come a long way since its humble beginnings as a virtual assistant within a chat app. It continues to thrive in its use and audience by bringing its smart design to different fronts. Google Assistant is built into the Android OS of most modern devices, making it easily more accessible by Google's existing audience.
The real value of Google's hardware is to provide a platform for Google to develop and deploy its artificial intelligence technology and allow for more ways to serve ads. Businesses should start taking advantage of this opportunity and find the best partner that could ramp up their Google Assistant SEO efforts to appear on the best answer result.
The need for a partner that knows how to do it right is vital for your business' success when considering voice search, and this is where Voice SEO comes in. Voice SEO is run by a team of skilled experts who can help you stay competitive in your industry when using Google Assistant. You'll be able to appear in voice searches through specific queries that involve your product or service, which would substantially grow your business.