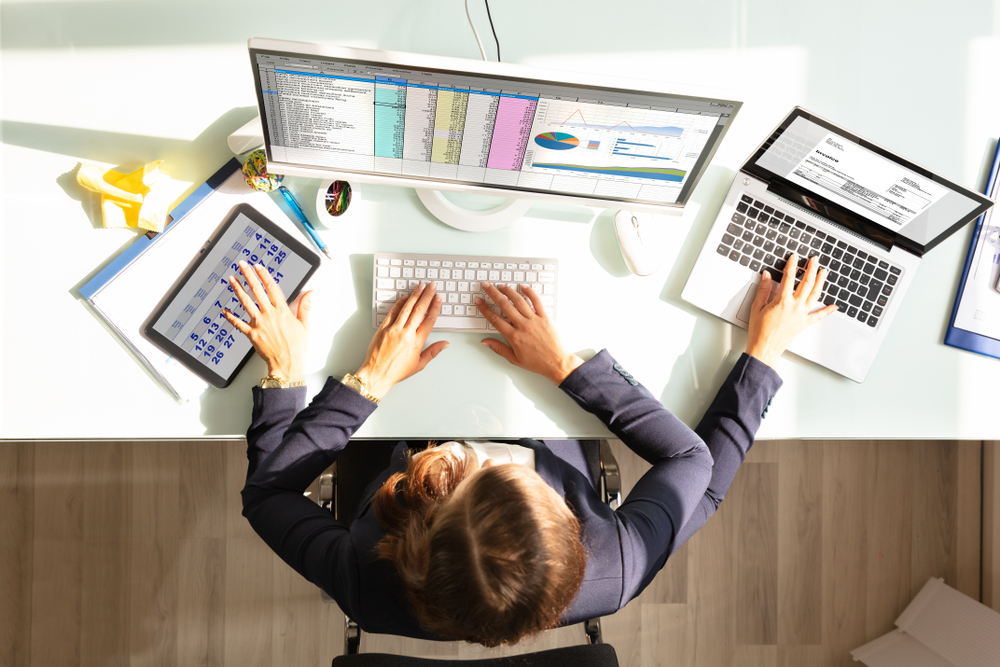 The Voice Search Revolution
Remember when Siri first came out and no one took her seriously? We'd ask questions like "Hey Siri! Do you love me?" or "Hey Siri, what is the meaning of life?" hoping for a funny answer to come along. Things have changed A LOT since then.
When voice search first arrived, not everyone could truly value its potential. But now, speaking to an inanimate object isn't so bad after all! With recent developments in technology, the current trends suggest that the evolution of voice search will cause the digital industry to shift in its direction.
By 2020 it is estimated that 50% of online searches will be coming from voice search. The convenience that voice assistants such as Siri and Cortana provide works both ways. Not only does it make life easier for users by providing quick and concise results for their inquiries, but it also makes it easier for marketers to get their brands out there.
As advanced and stable as voice search may seem, it will always be in the development stage. Preparing for these changes are crucial for optimization. With an ever-changing digital marketing landscape, keeping up with the change will allow you to remain ahead of the curve.
How Does Voice Search Change the Way People Gather Information?
When one uses a text-based search, the tendency is that the words inputted in the search engine are often unspecified, vague, and robotic. Let's say you want to know more about the piano by typing the word "piano info" in the search engine. The results are out, but did you get the information you were looking for? What about pianos are you looking for exactly? Is it just a picture of a piano, a list of piano prices, or a piano tutorial? Typed searches often lack keywords, making it difficult for search engines to provide you with the right information.
Before we dive deeper into voice search, we need to ask the question: Why do people use voice search in the first place? Simple! Everyone needs an assistant to lighten up the load. Voice search changes the way we gather information. Speaking to your mobile device or gadget is a quicker way to help you find your answer, and it also requires less effort.
It is reported that 70% of searches on Google Assistant use natural language. Voice search keywords are significantly longer than text-based searches because it causes us to be more specific. In voice search, the user will ask, "What are the best pianos to buy this year?" Instead of just typing in two to three words, using voice search unconsciously alters our behavior by causing us to use natural language and longer queries.
With voice search, the context and intent of the queries are clearer. Thus, it becomes easier for search engines to understand and provide the most relevant results.
Location and Intent
Let's say you were walking around the city one afternoon and you suddenly wanted to try a new restaurant near you. You take out your phone and use voice search to help you out. Your assistant (may it be Siri, Cortana, Google Assistant, or Alexa) will automatically use your location and perhaps even the weather to help you navigate. In just a minute, you were able to find restaurants near you, all with the information you need, such as the address, contact number, and operating hours.
Google reports that "near me now" searches have grown by 150% over the last two years. More than just providing your current whereabouts, the phrase "near me" is a crucial bit of information for businesses because it expresses one's intention. Note that this is not only limited to services such as restaurants, hotels, or gas stations.
Searchers are starting to become more specific with the things they want to buy. Whether someone's looking for a cute dress or a nice pair of boots, marketers need to take advantage of these micro-moments when the intent to purchase is strong. Make sure that the content you are producing is optimized for queries expressing high purchasing intent, such as "near me" voice search.
Maximizing Results
Compared to before, simple and mediocre content doesn't come up as easily as it used to. Google's algorithms are getting smarter and smarter, and at the same time, the competition is getting tighter than ever before. Sadly, the first page of the results section won't get any bigger despite the growing number of competitors. You wouldn't want your site to get moved to page 2.
SERP (Search Engine Results Page) features such as Knowledge Graph and Featured Snippets (also known as Position Zero) has affected the number of organic clicks websites, which has dropped by 37%. SERP features remove the need to visit a page to get your answer. By inputting the right keywords, you can find your answer immediately in the search results.
While this dip in click-through rate may seem discouraging, take it as an indication that Google's answer-focused technology has truly advanced so much in terms of accuracy and relevancy. This builds searchers' trust in search engine; the same trust will trickle down to your brand's content if it appears as a Featured Snippet. The more you rank for Position Zero, the more searchers trust and rely on your content for answers.
Optimizing for voice search SEO requires you to create reliable content that is readily available. By providing timely and relevant answers through your content, trust between you and your target audience will get stronger. Regardless of what industry your business is in, acquiring high-quality SEO services will help keep your website on top of the results page.
Skills to Improve for Voice Search
By now you should know that voice search isn't just a fad. If you haven't incorporated it into your company's SEO strategy, DO IT NOW. If you've already done so, then good for you. However, you should continuously learn about current trends to prepare for the changes to come. Here are some key areas you can improve on to acquire optimal voice search SEO results.
Voice Keyword Research
Research for high performing keywords. As mentioned previously, compared to text-based searches, voice searches provide better results by providing answers that use natural language. Keywords such as "best" and "beaches" will slowly get replaced with long and natural keywords such as "best beaches in Asia to go to for the month of April." In a nutshell, natural sounding keywords are going to get a boost in volume as voice search grows.
Let's not get off the wrong foot here. Bigger doesn't always mean better. This is not to say that you should only optimize your page around long keywords; you can get creative and find ways to spread them out in the content you are creating. Regardless of where your keyword is placed, once Google finds it, they'll immediately use it as a voice search result.
Considering how the changes in keywords affect how search engines operate, always take the time to update your keyword research and analysis skill. Additionally, explore tools that can help you perform keyword research!
Local SEO
"Near me" searches are at an all-time high. As such, it's also high time you reassess and refresh your Local SEO know-how. You don't want to miss the opportunity to get your business out there.
Don't ignore the importance of a well-crafted My Business Page. Make sure that your Google My Business Page is up to date with the right address, store hours, and contact number.
Creating your own Google My Business page will make it easier for your customers to reach you. Not only do you provide your rankings, location, and contact details, you immediately make a good first impression.
SEO Audit Specifically on Site Speed
Page speed has always been a crucial factor in SEO, but with voice search, it is even more important now more than ever. Users of voice search are always on the go and don't have the time to waste. If your site speed isn't optimized, they won't hesitate to leave and look for answers elsewhere.
Indeed, the loading speed of a voice search result is 3.8x faster than the average website speed. Learn how to use and analyze your current website speed with PageSpeed Insights and other SEO audit tools. Knowing how to audit your themes, plugins, and other site integrations that may be affecting your site speed is a key skill to develop for voice SEO.
Various tools tell you whether your site's current loading time and give recommendations on how to make it even faster. However, tools are only as good as the user. Fully understanding what kind of data you're getting makes all the difference in optimizing your site speed.
Content Optimization
Producing Voice Search FAQ Pages
In a previous study by Backlinko, one of their findings suggested that Google tends to answer queries with 29-word results. An example used in"Near me" searches"Near me" searches their study would be the results for the query "Are figs good for you?" Google responded with: "Figs are high in fiber and a good source of several essential minerals, including magnesium, manganese, calcium, copper, and potassium, as well as vitamins, principally K and B6." The result ended up with only 28 words.
When addressing questions by consumers, the results of the study implies that we should always try to answer queries in 30 words or less. Google prefers giving short answers; this is probably the reason why voice search results are more likely to come from FAQ pages.
For the record, this doesn't mean that you should only write 30-word blog posts. Aligned with the skills mentioned above, the voice search revolution should encourage you to re-hone your writing skills to be short and sweet.
Optimizing For Featured Snippets
Almost half (40.7%) of voice search results come from the featured snippet. Nowadays, consumers don't necessarily have to dive in the bottom of the article just to get the answers they want. Optimizing for featured snippets provides convenience for voice search users because they immediately have their answers and follow up questions in the first page.
Note that for Google Home and Alexa, search results will only give you one answer, making it more crucial to get in the featured snippet. To get your content in a featured snippet, you must learn how to create "snippable" content. For starters, practice producing content that directly answers your chosen keyword phrase and formatting it into either a paragraph, list, or table.
Writing Content with Natural Language
When searching for information via your phone's voice assistant, people speak as if they're talking to a normal human. Just like the Piano example above, voice searches are more natural and organic as compared to keyboard searches. When someone asks a question like, "Is feeding chicken bones to dogs safe?" Google will immediately look for a match in a site's content. Natural questions require natural answers.
Study the conversationally-phrased queries your target audience is using and exercise writing your content using natural, and casual language.
Embedding Long Tail Keywords Into Long Form Content
Voice searches are significantly longer than keyboard searches. Using long tail keywords & questions is a good practice for both traditional and voice search SEO. Long key phrases have less competition and provide an opportunity for your site to gain higher rankings.
Content that answers explicit questions like who, what, how, where, and why have featured snippets. Thus, choose the right questions you want to address and add them to pages around your site.
Learn how to gauge which long-tail keyword has the most potential and incorporate these in the headers; then provide answers for the main question and other related questions in the body.
Video SEO
Aside from featured snippets, Google has recently developed what they would call "Video Featured Snippets." It's a quick video result, but instead of linking a whole YouTube video, Google only shows you the clip that is relevant to your needs. Often, these types of videos tend to pop up more for natural language queries.
Let's say someone would like to find out how to increase your views on YouTube. The regular desktop searcher would type something like "YouTube SEO" as compared to the voice search user that will say, "How do I rank my YouTube videos?"
Video is one of the ways that Google answers voice search queries. When inquiring about something, most people would rather watch a video than read an article. Assess if your existing videos are optimized and add web video optimization to your list of skills to update. If you have yet to create video content, get to it!
Link Building
Sites with lots of links appear more often in voice searches. Voice search results are just a single result, so Google wants to make sure that they're giving you the information you need from a trusted source. This causes them to lean towards domain authority over page authority. When you focus on building up your Domain Authority, Google will want to use different pages of your site as a source.
Like citing references on a research paper, having different links on your site is a way to assure Google that the information your page provides is well researched and valid. Having a lot of high authority sites linking to your page is a signal that you are a trusted source of information.
Aside from assessing the backlinks you've earned, evaluate your current link building arsenal. Are your tactics up to date? You'll know that you need to update it if your outreach emails are no longer getting opened and you're no longer getting new backlinks; tell-tale signs that you need to explore new link building tactics!
Schema markup
You can control how search engines provide information about your brand. The content on your website will most likely get indexed in the results, but with schema markup, you can decide on what content gets indexed.
Let's say your site name appears on an article. By optimizing with schema markup, you're already telling Google what your site is all about making it easier for relevant and related information to be linked to your site. Having structured data give your pages a higher chance to appear in featured snippets and voice search results.
That said, learning how to add structured data to your page will pay off generously. Structuring your data with schema markup will make the process a whole lot easier for users and search engines to understand your site.
Conclusion
The digital industry is taking steps towards the direction voice search is heading. With its development in recent years, we can already expect that more improvements and changes are to be made. With the number of voice search users increasing constantly, marketers need to understand how their audience is using this technology and what they can do to utilize it.
The best way to secure your business' future is to learn about the trends and methods that will help your site boost its traditional and voice search SEO. The best way to be prepared for the future is to never stop learning. Constantly improving your skill set is the best way to maintain your position at the head of the curve. Hopefully, our tips were able to help you take the next step in developing your site's voice search SEO.