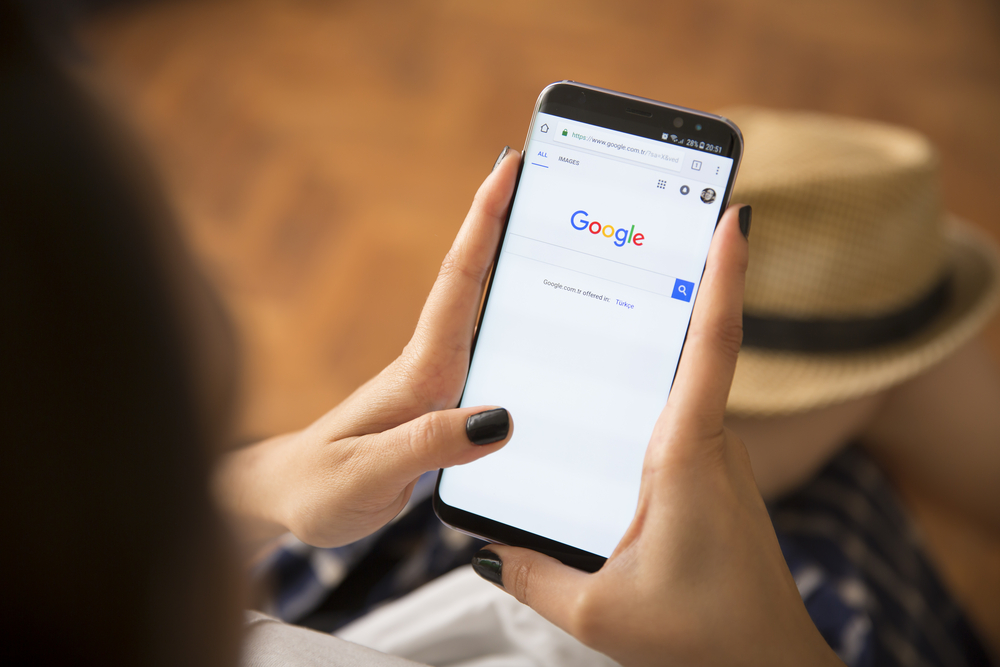 Imagine being a newbie marketer, having to prepare for a presentation. You're on the hunt for software that can help you create the best presentation, so you decided to whip out your smartphone and asked your voice assistant to do a web search for "free presentation tools."
As you might expect, the voice assistant quoted the content of a website and listed down the names of the apps you can download, based on the search results. The section of the webpage read aloud by the assistant is in the "position zero" of the SERPs and is also called a featured snippet.
What is a featured snippet?
From the name itself, a featured snippet is an easy-to-read, short but authoritative answer to a search query, appearing in a box on top of the SERP, above the organic results and below the paid ones. Due to its location, a featured snippet is also often called position zero (since it's above the first result) and contains the URL of the page and title.
According to RankRanger, featured snippets appear in 17.71% of searches and may appear as a brief paragraph, list, or table, with the paragraph type being the most popular. It makes getting answers easier, faster, and more convenient, as you won't have to click on a link to find what you need.
Google generates featured snippets organically, meaning they check the relevancy of the information from organic results when deciding what to put on position zero. According to Ahrefs, 99.58% of featured snippet pages for particular queries are already in the top 10 of the SERPs.
However, it's not surprising to see sites on page 2 of the SERPs to get position zero, as Getstat claims that 70% of snippets came from websites that aren't top-ranking organically. Some SEO specialists believe that there's no exact formula for earning a featured snippet. In addition, a spot in position zero isn't forever—Google can easily find another page that is better suited for a particular query.
What are the advantages of being a featured snippet for businesses?
Based on the scenario mentioned above, featured snippets are especially crucial in voice search, mainly because smart assistants (including on mobile) will reply the answer to a user's query with what's on position zero. By 2020, it is expected that 50% of searches would be done with voice. As voice search becomes the norm, businesses are also projected to go beyond traditional SEO and a page one result.
Voice search SEO may be essential to your business if you're in a competitive market, where gaining the first position can have a large effect on your market share. Position zero is perhaps easier to attain because it only looks at the relevancy of your content and not so much on link metrics—this is evident on the fact that lower-ranking pages can make it to position zero.
This gives every company a chance to boost its visibility and organic traffic; even though featured snippets readily provide an answer to a query, there is still a chance for the user to click on the box and be redirected to the page with the featured snippet.
In fact, Hubspot has found that content in featured snippets is more likely to be clicked than the first organic result, getting two times higher click-through rate. Because it gives a website above-the-fold exposure, it is more effective in driving traffic to your site and improving your business' credibility and conversions.
How can you make your content position zero worthy?
Boost your voice search SEO by attaining the coveted position zero. Here are a few guidelines on how you can do it.
Find opportunities to rank
You have to go out of your way to find opportunities that can take you to position zero, and that means doing ample keyword research. You can start with keywords that you're already ranking well for since most featured snippets come from high-ranking pages.
You can look to your audience behavior customer-facing teams (sales) to know the kind of questions they are likely trying to find answers for when doing keyword research. There are also a few ways to find these:
In a study by Stat Search Analytics on 92,000 search queries, they found that terms that often return featured snippets include financial, mathematical, time, transitional, status, requirements, health, and DIY processes. Meanwhile, search terms that rarely do include local, info/help, factual, shopping, and images and videos.
Ahrefs also found that search queries with the words "recipe", "best", "vs.", "make", and "definition" have a better chance of being in position zero. Aside from taking advantage of the terms mentioned, here are more suggestions of what to consider for your keyword research:
High-volume search terms get snippets more frequently.
Explicit questions like who, what, how, where, and why would obviously have featured snippets, but also consider implied questions containing words like "does", "cause", and "costs"; and action words like "doing", "getting", "making", or "cooking".
Snippets for general questions usually show the paragraph type.
Check your competitor's snippets
Aside from looking into your own analytics and reviewing your users' behavior, you can also review your competitors' featured snippets to give you a starting list of keywords you may focus on. The following tools can help you do just that:
SEMrush — Find your own and your competitors' featured snippets with SEMrush by running a regular domain check and going to Organic Research > Positions, then filter the list of keywords under Advanced Filters by doing the following: Include > SERP Features > Featured Snippets. You can also just click Featured Snippet under the SERP Features list on the right side of the page.
Stat Search Analytics — Create a keyword list and upload it into your Stat to get the rankings for all keywords. It will also show which are producing featured snippets, or "answer" type results. You can filter those keywords to focus on those ranking in the top 10 results and tag keywords you want to track.
SearchMetrics Suite — To find search terms in this tool that are in position zero, use the filter Direct Answers.
With the information in tow, you can start optimizing your content for the same keywords and topics. Keep an eye out for variations of the keywords as well.
Develop high-quality content
Producing informative and relevant content can be made easier if you've already done keyword research or have felt the pulse of what people are asking. Of course, it's also essential to give the correct answer. Here a few SEO tips on how to write good content.
If you're aiming to be a featured snippet, you must have "snippable" content. Include the exact content that you want to be featured, directly answering the chosen keyword phrase and formatting it into either a paragraph, list, or table.
According to Ahrefs, once a page earns a position zero spot, it's more likely to be featured in other related searches as well. In this case, you can come up with an in-depth article that answers multiple, related search queries to get a chance to earn several featured snippets for that content. Explore various facets of the topic and explain thoroughly.
Follow the "inverted pyramid" structure: Present the query clearly and prominently on your page, provide a short and direct answer immediately after the question, and then include more information to explain the solution.
Pick an evergreen topic that has staying power. This would ensure that your content would still be relevant for its readers after many days, weeks, months, or even years.
Since Google has utilized latent semantic indexing, it is now able to understand how words relate to each other. Instead of stuffing the same keywords on your content, use related phrases or synonyms.
Meet the optimal word count
In SEO, the longer the piece of content, the better. Some specialists target at least 2,000 words, but when it comes to sections you want to be considered for the featured snippet, you need to keep it concise for Google. According to an analysis by SEMrush, featured snippets is somewhere between 40 to 50 words.
To make sure that you're breaking up your lengthy content, use headers and section off lists, paragraphs, and tables. This way, you're preparing your article for a possible featured snippet. In addition, organize your subheadings by size, like using main heading H3 with subheading H4. Also, format it in chronological order, as Google prefers it that way.
Optimize your page properly
Aside from the headers mentioned above (H1–H5 tags), there are also other ways to make sure that your page is adequately optimized:
Make the search query a heading or formatting the question as H1, H2, and so forth.
Place the answer in a short paragraph and format it as HTML tag <p>.
Have internal links to other helpful content.
Make sure that page titles and meta descriptions include keywords.
Include helpful alt tags on images.
Apart from the HTML aspect of optimization, you can also take advantage of the "how-to" content, or pages in websites dedicated to explicitly giving answers users may ask about your business like a FAQs or Q&A page. With the right formatting, you can help Google select a short response from your how-to page as a featured snippet for a question.
Work on your off-site SEO
Off-site or off-page SEO refers to optimization tactics done outside of your page. This is to increase your site's popularity, relevance, trustworthiness, and authority in the eyes of the search engine, and usually involves other equally reputable sites linking to you as a way to promote and vouch for the quality of your company and your page, which refers to the practice of link building.
Moz' study on search engine ranking factors shows that off-site SEO may carry more than 50% of the ranking factor weight. It's safe to say that link building is synonymous to off-site optimization, but there are other techniques that you can use to improve your rankings that are not entirely link related, such as social media and influencer marketing.
Common link building methods include guest blogging or publishing a piece of original content on authoritative websites to gain links, broken link building or fixing dead links by providing webmasters better content, and skyscraper or updating content that already has several links. From blogging alone, you can acquire 434% more indexed pages, with inbound links growing up to 97%.
One thing to keep in mind about link building is that it's a gradual process and that the quality and authority of the pages where you built links heavily influence your ranking in the SERPs. In addition, you have to maintain a good relationship with other sites (as well as keep on producing good content), so they agree to link your page or have you guest blog for them.
Use high-quality videos and images
Visuals in the form of photos and videos are easy ways to get your readers' attention and help you rank to position zero. There are available tools like Canva that you can use to create your own images, or you can just pick a free stock photo (if you don't want to pay for it). You can add free shapes, icons, and more to your images depending on your need.
Videos, meanwhile, are huge for engagement, with 65% of people watching at least three-quarters of a video. Some 59% of executives also believe that people may watch a video if it is combined with text. When creating and uploading a video, make sure that it is high quality.
In addition, do not forget to include a voice transcript of your videos, as Google can recognize the text and even choose it as a featured snippet (provided it fulfills the content requirements). Include the transcript in the description box.
In voice search SEO, zero is everything
Like updates to the Google algorithm, voice search is changing the SEO landscape. Instead of page one, sites should be trying to reach the featured snippet box to enjoy better visibility, more traffic, and eventually, higher profits.
Truthfully, traditional SEO isn't so different from voice search SEO—all you need is good content. When you have that, you can adapt to almost any algorithm change with ease. Design your content to answer a specific question and continue applying most of your traditional SEO strategies to get better chances of holding a featured snippet.
If you want to start building credibility for voice search today, get in touch with Voice SEO and avail of their voice search optimization services.