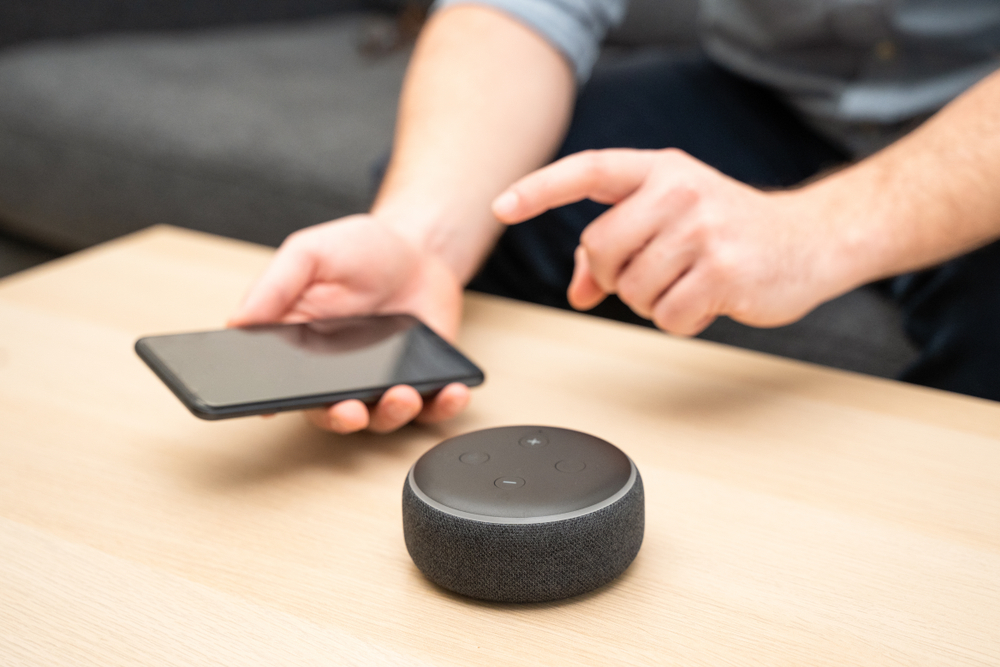 When the world's biggest tech giants introduced their respective voice assistants not even a decade ago, people were equal parts in awe and skeptical. It seemed like such a futuristic thing to have your devices perform actions via voice commands, yet it also felt a bit silly doing it.
Fast forward to now, and it seems like voice search is all the rage—and it will continue to be in the next few years. Smart speaker shipments grew by almost 200% in the third quarter of 2018, suggesting that the people have adapted, and the tech has gotten better since its initial release. Projections are forecasting that 50% of all online searches will be done via voice by 2020 and that the channel is expected to grow to be a $40 billion industry.
That being said, there is a battle between the top three voice assistants in the market: Siri, Google Assistant, and Alexa. By putting all three head-to-head, marketers will have a better understanding of how they work and how they can use this knowledge to benefit their business.
Battle of the Voice Assistants
General Overview
Each assistant operates in different ecosystems and software, most especially Siri. This means that Siri is accessible to any Apple user, regardless if they have a home device. However, Siri's actions are limited on the HomePod versus the iPhone or MacBook. For instance, it can't dial in or out on the smart speaker.
Google Assistant, on the other hand, is available on all Android and iOS devices—including Chromebooks. They offer a wide variety of home speakers, but the voice assistant can be accessed on some third-party Google AI-enabled speakers as well. This puts out a wide margin in terms of accessibility compared to Apple's Siri.
To experience Alexa, a user would need to have Amazon Echo, Fire TV, or any of their Fire tablets. Even though it's the youngest digital assistant of the bunch and is limited to purchasing smart devices for the home, it has made quite a buzz since its release and has been a popular choice in the smart speaker industry.
Voice Recognition
To call the voice assistants' attention, users have to say a different phrase. Of the three, Siri on the HomePod is the only voice assistant who responds to any "Hey, Siri" without further personalization. In comparison, calling Alexa or saying "Ok, Google" to the Google Assistant will trigger these assistants' voice training. This enables them to identify which user they are speaking to—especially on home devices. It also creates a customized experience for the user in question. It's not perfect though, as some reviewers have been able to trick the Amazon and Google assistants by pretending to be their co-workers.
Understanding the Context of Queries
Voice assistants picking up your voice is excellent—but it's the bare minimum. How well does each of the three understand what users are asking?
Generally speaking, all three can catch a user's voice and understand basic commands such as the weather, the date, or simple "near me" queries like "What's the nearest Japanese restaurant?" They do, however, struggle when there is background noise or when you're playing music from the speakers or device itself.
However, two of the three assistants do have an edge when responding to answers. While all three will give you what you're after, Alexa and Google Assistant would often describe and say the answers out loud. Siri, on the other hand, would show links and allow the user to peruse through answers that were pulled up. This sort of defeats the purpose of going hands-free, but it depends on the user if they enjoy this kind of experience for getting query results.
When it comes to follow-up questions, Siri performs best without the user having to repeat or reference the initial question asked. For instance, if one were to say, "Tell me about Coldplay," they could follow up with "What's their newest album?" and Siri would be able to keep up. Google Assistant shows the same aptitude for understanding conversationalist queries; unfortunately, the case is not the same with Alexa.
Online Shopping
Shopping via voice commands sounds exciting and easy in theory. But with the current state of voice search assistants in the market, it's a long way from being the preferred method for transactions. Alexa has an edge here since it's tied in with Amazon—this feature truly shines in the United States and major countries that the online shopping catalog services.
Google performs similarly well but doesn't direct to the Amazon catalog. Instead, they usually direct to Target. Siri, on the other hand, doesn't support this feature flawlessly yet as it doesn't have an in-app online shopping partner. The most it can do for now is to direct the user to the nearest physical store where they can find what they are looking for. This assumes that the user is headed out or will be hitting the road to the shop versus being able to do it in the comfort of their home.
Music and Entertainment
When it comes to asking the assistants to belt out your favorite tunes, all three perform to the same outstanding capacity—so long as you're subscribed to the music streaming platform unique to each. For Siri, there's Apple Music or merely having the song in your iTunes library; Alexa has Amazon's Music Unlimited streaming service, and Google Assistant anchors on Google Play Music.
So, what happens if you're not subscribed to any of these? The Google Assistant pulls up an internet radio station containing the result. Meanwhile, Siri won't play anything if it can't find the song on your library or if you're not subscribed to Apple Music.
Both Google Home and Amazon Echo smart speakers offer multiroom audio, which creates a group of speakers via your smartphone. This means you don't get to miss a beat and seamlessly connect your listening experience inside the house if you have more than one Google or Amazon-AI enabled speaker.
Siri can do that as well, as long as speakers support AirPlay2, along those that connect to an Apple TV. However, if you want Siri on a home speaker, your only option is to purchase a HomePod (or several).
When it comes to entertainment, such as watching television shows or movies, Alexa can control Amazon Fire TV, Fire TV Stick or Fire TV Edition, as well as a myriad of actions from pause and play and volume control to opening apps. Likewise, Google Assistant can control Chromecast-connected devices like a smart TV. On the other hand, Siri can only control music and podcast playback on AirPlay speakers, the HomePod, and Apple TV. It doesn't support opening apps or video playback.
Communication and Making Calls
As mentioned earlier, Siri's capabilities are quite limited on the HomePod. However, you can send new messages, reply, make calls, and answer them on iPhones and CarPlay. This does make for a great communication device when the user is on-the-go.
Meanwhile, both Alexa and Google Assistant operate differently. First off, both can make calls with simple voice commands. However, Alexa can only receive calls from other Echo speakers—other smartphones or landlines are not supported. Google Assistant can't receive calls. However, you can send text messages from all three.
Navigation and Giving Directions
Navigation is probably one of the essential uses for voice search, as people who have a busy day ahead of themselves would greatly appreciate detailed information about the routes they are taking.
Following the trend in this comparison post, Siri seems to do very well when it comes to giving directions as it assumes the person is out and about. It also integrates Siri with CarPlay, which makes for hands-free navigation on the fly. So, if a user were to rely on Siri for GPS, it would fair well. The only thing it might fall a bit behind on is on the iPhone, it doesn't give real-time updates about traffic and instead redirects the user to the Maps app. However, it has these capabilities on the HomePod.
The Google Assistant works well with both Google Home and Android devices with the Google Assistant app. It was able to give accurate public transit suggestions and an overview of traffic. It also fires up Google Maps, Apple Maps, or Waze when you're ready to start your trip.
Alexa isn't doing well in this category as it's not integrated with any navigation or map app that can provide information related to your request. It also doesn't display public transit suggestions.
What It Means for Search Marketers
Siri, Google Assistant, and Alexa may perform in different capacities, but the bottom line is, consumers are getting more heavily invested with voice assistants. The primary goal of this tech is to help users with their daily tasks and access information from the web hands-free. This points to the rise of voice search—and it's well worth to note that it is starkly different from text search.
Learning the differences between the three is an excellent opportunity to start thinking about ways to optimize your SEO strategy for these voice assistants. Here are some essential things you should know about:
1. Voice search queries use natural language
If the trend for text searches is "the shorter, the better," the opposite is true for voice search. Speaking is much faster than typing, and this allows users to exert less effort and be more specific when doing voice search. The average length of a voice search is between 4-20 words. For instance, one would type "Iron Man actor," but would voice search "Who plays Iron Man?" or "Which actor plays Iron Man?"
In this case, it would be helpful for you to insert and optimize long-tail keywords in your content and work in more natural language with your posts so that search engines would present your result in a voice search query.
2. Mobile voice-related searches ask for local results
Mobile voice queries are said to be thrice more likely to be local-based vs. text searches. This follows the trend of voice assistants for shopping and navigation, such as directing you to a restaurant or grocery store nearby.
Setting up your SEO for Google Assistant (and other voice assistants, for that matter) would mean fixing your Google My Business page and updating your contact information for anyone who would want to drop by your shop or restaurant. This is particularly useful for searchers who would ask queries similar to "coffee shop near me." Improving your local SEO will boost your chances in appearing on voice search results.
3. The competition for the top rank is even tighter
When doing a voice search, you don't usually get a page filled with links you can browse through. Instead, the voice assistant will give you one answer, and that's it.
This doesn't mean you have to forget all about ranking for desktop or mobile searches though. They are closely linked. A study from Backlinko says that 75% of voice search results are pulled from the top three desktop search results for the search query. Therefore, you have to work to be the best result for your industry, and not necessarily the first. Google will always take location, past search history, and other factors when producing results for users. Doing voice SEO for Siri and the others is taking a look at your strategy holistically too.
Better yet, it will do you right if you also consider aiming for the featured snippet or "Position 0" so that you can ensure that you're one of the top candidates for the results of that voice search query. 40.7% of voice search responses came from a featured snippet. Hit two birds with one stone as you optimize both typed and voice searches with this tactic.
4. Optimize for all search engines
While Google currently holds the largest search engine market share to date at 89.95%, don't forget about other search engines, specifically Bing. Doing voice SEO for Alexa includes Bing because that's the search engine the voice assistant uses to deliver results. This is a huge point to factor in, especially when you consider the smart home circulation in the world.
The Amazon Echo and Google Home are the top two players in the smart speaker scene, with the former taking the lead. Sources show that Alexa has over 39 million units in circulation (69% of the market), while Google Home currently has 14 million units (31% of the market). You won't be reaching a lot of people who own Alexa if you primarily focus on Google.
5. Study your consumer's user intent
In 2015, Google released an in-depth consumer study about consumer behavior online and aptly dubbed it as micro-moments:
I-want-to-know moments, or general searches for information
I-want-to-go moments, commonly referred to as the "near me" and local searches
I-want-to-do moments, for ideas when executing a task or planning an event, travel, etc.
I-want-to-buy moments, for online shopping or suggestions on what to buy
Modeling your content around these micro-moments and optimizing the keywords you include to answer these specific consumer needs can boost the relevance of your pages for voice search queries. You should also be mindful of the top three keywords included in searches done by voice—how (8.64%), what (5.01%), and best (2.63%).
Voice Search Matters
As previously mentioned, half of all searches will be done via voice in 2020—but you don't have to wait for next year before you can start reevaluating your SEO strategy. As early as now, there's a lot of changes you can do to make sure you stay on top of the game, including local SEO, the incorporation of long-tail keywords, and optimizing for Bing. The first step to creating a solid SEO strategy is understanding the current state of voice assistants today. Voice SEO can help you bridge the gaps between your data and become a front runner in this young industry. Drop us a line to see how we can optimize voice search for your business.