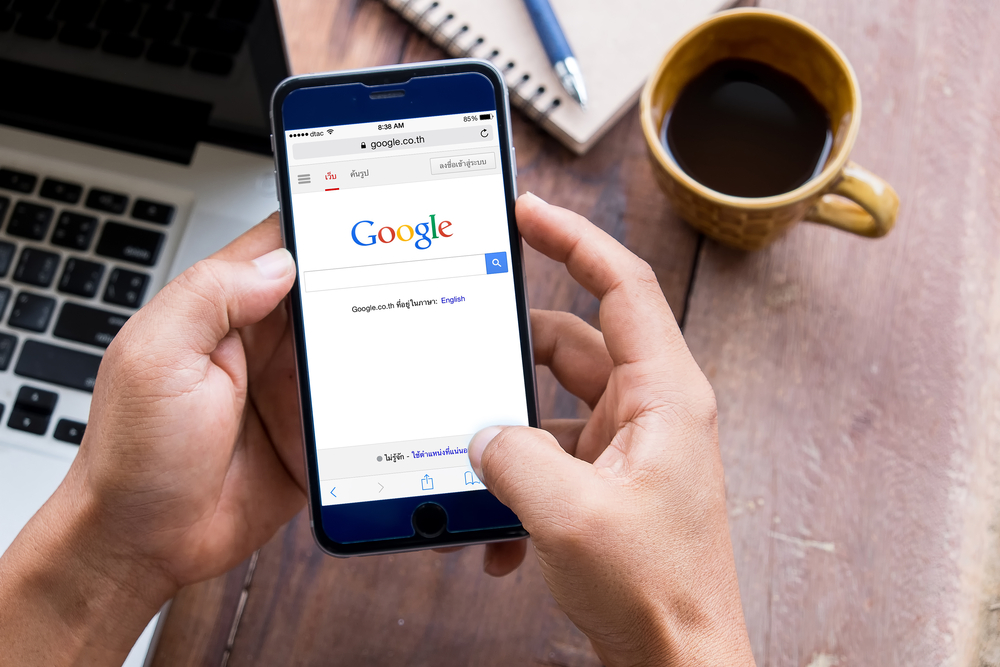 If you have a business in a particular community, being part of the Google Local Three-Pack can boost your overall online presence. Also called Map or Snack Pack, the local pack is the section that you see on the first page of search results, right below the search box. You'll commonly encounter this when you're searching for a business establishment in a specific area.
As its name suggests, the Google Local Three-Pack lists the top three local businesses that match a user's query in terms of proximity to the searcher's location.
Having your business on the local pack can be a huge thing. It means that Google thinks your website is the most relevant to what people in your community are looking for, and therefore, should get the prime spot in local business listings.
This position inside the local three-pack not only makes your business visible to internet users, but it also sends them signals that your business has a high authority with Google. As a result, you get more clicks and traffic to your website than competing businesses that appear outside of the Google local three-pack.
Look at these supporting statistics about local search results:
92% of online users pick businesses on the first page of local search results, according to SEO Expert. In comparison, Moz says there are only 8% clicks on "More local results" or "More places" among users of local search.

72% of people who perform a local search end up visiting a store that's within 5 miles of their location. In addition, 86% of people use Google Maps to locate a business. (Social Media Today)
At the rate or speed that local mobile search on Google is growing, optimizing your website to rank in Google's local three-pack can give good mileage to your business. This will ensure that your business will come up at the top of the search engine results pages (SERPs) each time someone makes a local or "near me" search. 
How does Google determine local ranking?
For you to show up in local search results, you need to comply with three requirements that Google uses to rank businesses.
► Relevance
Google wants you to provide detailed and complete information about your business so that it can make the closest match between your listing and user queries.
► Distance
Location is another major factor that helps Google decide whether or not to display your business in local results. What Google does is that it takes into account where your business is located based on a specific area included in the user's search or based on what's known about the user's location.
► Prominence
Google also looks at the popularity of a business when selecting local businesses for its search results. Brands or places that are familiar to many people may get a prominent position in local search results. The same goes for businesses that get credited with links, positive reviews, or high rating scores across digital channels. These factors, along with a strong SEO performance, can put your business in front of users of local search.
How to Optimize Your Voice SEO for the Google Local Three-Pack
Voice search is a fast-rising aspect in organic search, as these numbers from Hubspot indicate:
As of January 2018, voice searches totaled approximately 1 billion per month.

65% of consumers in the 25- to 49-year-old age range speak to their voice-enabled devices at least once a day.

By 2020, 50% of all online searches will be done via voice search.

By 2022, voice search is forecasted to be worth $40 billion.
Given how prevalent voice search is at the moment—and how it's poised to get more mainstream in the near future— it's only right that you turn to voice search to get your business to rank on Google's elite local pack.
Through voice search SEO services, you can be more strategic in setting up and delivering your business listing to make it more noticeable by Google as well as by your target audience.
Here, we share some must-do strategies to help you make it to Google's top three local listings.
1. Create a Google My Business page for your company
This is the first step to making your business searchable for Google users. It involves creating your Google My Business (GMB) profile so that customers will have all the important information about your business.
By having a listing on Google My Business, you're making your company details available for voice assistants to access from search engines, maps, and other online databases.
Here's what your Google My Business listing should contain:
Business name
Business category
Business address
Business telephone number
Business logo
Photos of your business
Clickable website, call, and direction buttons
Popular times
Hours of operation
User ratings or reviews
2. Optimize your business listings
An optimized business listing is one that's properly set up and managed. Here's how you can do it:
Ensure the accuracy and consistency of your business name, address, and phone number (NAP) across the web. During the process of creating your Google My Business profile, you'll be brought to a map page where you'll be entering your business information. Whatever information you put here should be the same as what you provide on your website and other directory websites such as Yelp and Foursquare.
Once you've filled in your business information, make sure that you keep it as up to date. The more current your information is, the more useful your website will be for your online prospects. It's also an effective way to provide the best possible user experience for your prospective customers.
Include high-quality images to cater to mobile users. Customers will definitely appreciate seeing clear pictures of your store or product even if they're only looking at them from the small screen of their mobile device. Ultimately, this can help you attract more foot traffic to your business.
3. Manage and respond to reviews
We've mentioned that Google uses prominence as a factor in determining which businesses to display in local listings, but to set the record straight, being the largest, most popular, or most visited in your area isn't the only yardstick that makes your business qualified.
Whenever customers leave favorable feedback about your business on online reviews, Google takes it into account and uses it to enhance your prominence as a local business. That said, you should devote time to getting 5-star reviews by being responsive to customers' queries, requests, or feedback promptly. As you know, happy customers are the best brand ambassadors you could ever have.

Over time, as positive reviews keep coming for your business, voice search will more likely show your listing whenever someone asks for the best local business or the best local product.
4. Monitor your GMB information
You must claim and verify your GMB listing. Otherwise, anyone can make unwanted or unintentional changes to it without you knowing it by clicking the "Suggest an edit" button. Once the changes go live, the discrepancies in your business information or business citations may affect your local SEO rankings.
Fortunately, you can fix the changes you didn't make by editing your business listing on Google although the more ideal practice is to claim your listing from the outset and to keep it always updated.
5. Use geo-phrases in your keywords
If your business is ranking organically, but not locally, the problem may lie on the keywords that you're using. Since voice users are including location-based phrases in their queries, you'll need to optimize your business listing with geo-related keywords or explicit locations. 
The reason for this is that SEO for local rankings depend heavily on factors such as proximity, NAPs, and other relevant categories on GMB listing. 
And with Google reporting that "near me now" searches have grown by 150% over the last two years, ensuring that you do this properly is critical. Here's how you can optimize for those types of highly specific searches:

Instead of just labeling your business with generic terms like "salad shop," make sure to add keywords that voice searchers would typically use these days, such as "organic" or "locavore" around your product descriptions.

Instead of placing a zipcode or a state in your address, include the name of the street and the city in your location information as it helps Google come up with more relevant results that match hyper-specific queries from users.

Add in the hours when your store opens and closes, so your business can show up at the exact time that people are searching for nearby places or products.
6. Cultivate locally relevant links for higher online visibility
As with traditional SEO where you have to link to high authority pages, you need to build links to rank in voice search—this time focusing on links that are relevant to your local business. Here are some ideas for building links to your local business:
Links from local business partners—You can reach out to owners of companies that you do business with, asking them to include a link from their blog or webpages to your website. Their business may be different from yours, but as long as they can establish relevant connections between your businesses, you'll be gaining valuable links to your site.
Links from local event partners—Being a participant or sponsor in local events also allows you to get links to your website. Any blog or announcement coming from the organizer or your event partners about the event can include links to your website.
Links from local industry resources and directories—Depending on your industry, you could look for associations that organize a list of local businesses in a particular area. Make sure that you get your business listed in their directories, especially the free ones. 
The bottom line here is that through local link building, you can become more active or visible in your area. Plus, with local organizations promoting and linking to your site, the quantity of your online exposure automatically increases. This can then help you get on the radar of Google for its local pack rankings.
7. Adhere to on-page SEO requirements
Website and webpage optimization is what helps your business rank in local search results, and paying attention to this checklist can boost your voice SEO and get your business found online.
Title Tags—Good title tags contain keywords for your website pages, which search engines use to identify what your page is all about. The tag should not exceed 55 characters, or the title for that page might appear cut off once published. There's also no need to include stop words like "the" or 'is" in your title tags.
 
Meta Description—This refers to the text that users see below your title tag and your website URL. Unlike title tags, the meta description you provide has more use for searchers than for search engines. If your meta description is concise and enticing enough, the more likely that users will click through to your page.

Header Tags—These are codes that define the structural makeup of your webpages. Aside from helping search engines understand how your text flows, header tags are also where you include keywords to optimize your headings and subheadings.

Alt Tags—You should use alt tags to describe images on your website to provide context to Google regarding their relevance to the content of your webpage. Ideally, your alt tags should include local keywords that are also found on the title of the page.

Internal Links—These links connect different pages of your website to one another. Internal linking requires that you build lots of quality content, so you'll have multiple pages that can potentially rank on Google search.

Minimize Flash—Flash is the technology that adds animation to your content, but sadly, these animations are giving search engines a harder time trying to understand the content of your website. To optimize your website, you should minimize or eliminate the use of Flash.

Robots.txt and Sitemap Files—These two files help search engines locate your website, so without these files or if these files aren't up to date, Google will not be able to index your content nor will they be able to include your website in the search results.

301 Redirects—SEO algorithms require the presence of "www" at the beginning of your website address. Without this, traffic to your site might not be directed properly. Ask your website hosting company to set up a 301 redirect, so that visitors will be able to land on your website whether they type "www" to browse your site.

Images and Video—Images, video, and multimedia are getting more traction these days among content consumers, so you should use more of them to educate and engage your target market.

Readable URLs—Search engines and their users also turn to URLs to identify what a page is all about. You should optimize your URLs and use your primary keywords. Poorly crafted URLs might discourage people from clicking through to your webpages, or search engines from ranking your site.
Rank Your Local Business on the Google Three Pack
Today, consumers are highly dependent on search engines to help them find information, products, places, or businesses online. As a way of rewarding users, search engines are constantly improving the way their service works.
Now that the focus has shifted to voice search, the challenge for your business is to be where most of the search users—none other than the Google Local Three Pack. By optimizing your voice SEO, it will be easier for you to land in this highly coveted ranking, get your business discovered, and lead local audiences toward your website to further engage with them.