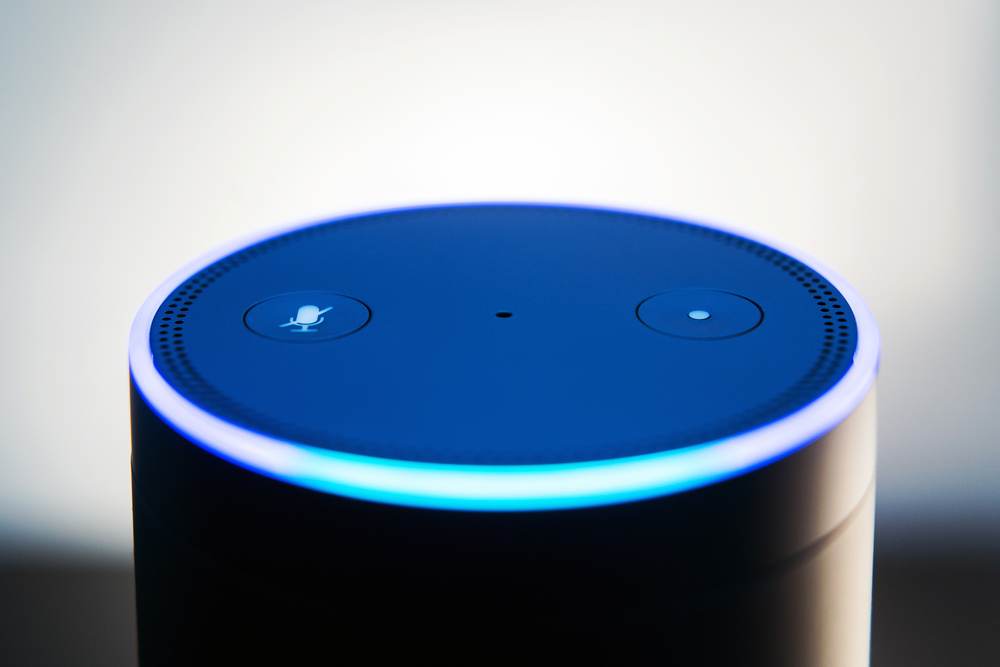 Much like the evolution of voice-recognition technology that paved the way for smart assistants, e-commerce giant Amazon went through similar progress that allowed them to become one of the businesses to reach $1 trillion in market value. Not bad for a company that started as a humble bookstore.
However, Amazon isn't content with innovating e-commerce. Products and services like e-book reader Kindle and digital content platform Amazon Video have proven that the Seattle-based company is also trying to influence other aspects of the consumers' digital experience. With the continuing surge of voice-enabled software and tech, it's no surprise that Amazon has also dipped their toes into it.
Alexa: Amazon's Foray into Voice Tech
In 2014, Amazon launched Alexa, its first smart assistant, integrated into their smart home speaker Echo. Alexa does what other voice-enabled assistants do—look up information to answer to queries, play songs, order food, call, and many other tasks. One of the major differences is that it wasn't initially integrated into a smartphone (though it now has an app), so it can be used completely hands-free.
It's also no surprise that Amazon's voice-recognition software places particular importance on shopping, allowing users to order products by asking it to search for an item off Amazon. Alexa will reply with the item and its price, and then ask a 4-digit security code to validate the order.
One caveat to this is, for now, Amazon Prime members are the only ones who can shop through Alexa, and only select Prime-eligible products, as well as specific product types, can be purchased. 
The Influence of Amazon's Choice in Alexa SEO
For Amazon sellers, being awarded the Amazon's Choice badge can significantly influence their optimization and how they appear to consumers looking to buy something off the platform.
Amazon's Choice is given to "highly rated, well-priced products available to ship immediately." Essentially, this means that an item has been bought many times, and customers were satisfied with it based on Amazon's reviews data. More importantly, when shopping using Alexa, the badge means that the smart assistant would recommend a particular item when a specific keyword is used. 
It was created for a seamless voice-shopping experience, where consumers can't see all their options. It also helps buyers maze through millions of listings easily, especially when they are searching for something relatively generic, and is a way to combat choice overload when choosing through a range of almost identical products.
One of the problems, though, is that for many categories, several options fit Amazon's Choice generic description. It doesn't help that the company isn't as transparent about how products can land the coveted badge. However, there are a few clues left on Seller Forums that sellers can incorporate to maximize their chances of landing the award. According to a response from the company:
"We don't offer Amazon's Choice for all searches. Amazon's Choice recommendations are selected by taking a variety of factors into account including popularity, rating, and reviews, availability, shipping speed, amongst other factors….'
'There is not currently a means of requesting that your product be selected as Amazon's Choice for a given search (keyword). Selections are constantly updated, so continuing to offer high quality, well-priced products to your buyers will give you the best chance to be selected as Amazon's Choice."
In conclusion, Amazon's Choice heavily relies on:
High customer rating
Availability to ship via Prime or by Amazon itself, if not always sold by Amazon
Low return rate
Competitiveness of price
7 Ways to Optimize for Amazon's Alexa
If you're peddling your products on this e-commerce site, you'd definitely want to be part of the few chosen for Amazon's Choice. But since this isn't the only prerequisite for Alexa to reply your items to consumers who would use the smart assistant when buying, you'd also want to look at other techniques that would help you win Alexa's favor.
1. Do keyword optimization for your Alexa SEO
Several Amazon sellers believe that keyword is significant in voice-enabled purchases; that adding or removing a word can result in different recommendations. For instance, "toothpaste" may turn up Crest 3D White, but "best toothpaste" may show Cali White, a lesser-known toothpaste brand.
Keyword optimization has always been a necessary tactic in SEO, and for Alexa SEO, it's no different as it helps search engines understand what your content (in this case, your product and the product page) is about. Obviously, the first step in keyword optimization is finding the best ones. There are two types of keywords you need to look for:
A primary keyword is one that is highly relevant to your product, brand, or industry. To find this, enter a topic or term into Alexa's Keyword Difficulty Tool, then use the Relevance filter. Make sure that the keyword is also popular with users, so look for those that have a high popularity score. 
It may also be best to go for low-competition keywords that are within your range and easy to rank for. Alexa's Marketing Stack assigns a competitive power score that also indicates keyword difficulty depending on its competitiveness. Keywords highlighted are those within your competitive range.
Once you have a primary keyword, perform new research to find 4–5 relevant secondary keywords. These are terms closely related to the primary keyword that add context and send signals to search engines. A simple way to find these is to enter the primary keyword on Google search and look at the list of related searches. After which, you can start creating your content.
2. Be present on Amazon Prime
As earlier mentioned, voice-powered purchases with Alexa is only possible for Prime members for now. That is why you need to make sure that your products are available here. Prime subscriptions (with fees payable monthly or yearly) mean that customers can enjoy two-day shipping for their purchases. Items labeled Fulfilled by Amazon (FBA) are part of this program. 
FBA means that sellers send their products to Amazon warehouses to let the company handle its delivery, returns, and customer service. Being available on Prime comes with a price, though, which you should be familiar with before you apply for it. Amazon has a calculator that can help you with that.
If you're a merchant that sells large, expensive, or hard-to-ship items, FBA may not be useful for you, but that doesn't mean that you can't be part of it, considering how valuable it is for your bottom-line. For that, Amazon has another program called Seller-Fulfilled Prime, which allows products to get the Prime badge, making it eligible for Alexa orders, and still ship from the merchant's location. 
3. Be proactive in managing product reviews
You should be aware of what people are saying about your products and services; even more so if you're trying to earn the Amazon's Choice grant. Manage your buyers' ratings and reviews through follow-up emails. Encourage them to leave positive feedback on your page if they are satisfied with it.
Don't neglect the unhappy ones, though. Forward their concerns to your customer service department so you can help solve whatever problems they had about your product or service. Customers can remove old negative reviews, so there's value in reaching out to them.
However, do be cautious about offering promos in exchange for positive reviews. Amazon is aware of such practices and believes that it has a damaging effect on customers' trust in the review system. Because of this, they have started fighting back against low-quality reviews and removing reviews that look fake. Offenses like these may put your seller account in danger of suspension.
4. Optimize your product pages
Despite most of the steps being almost similar to your standard optimization techniques, Amazon is not Google. They do not care about CTRs, dwell time, or fresh content—the only thing that matters is if presenting your product as a search result leads to a transaction. One thing Amazon and Google may agree on is banning black hat techniques such as review and rank manipulation.
Here are the best, legitimate ways to optimize a product for Amazon searches:
Amazon has photo guidelines for each category; make sure to follow them. You can use as many photos as allowed, but make sure that they are all high quality and high-resolution. A picture with 1000 x 1000 pixels will enable desktop users to zoom in and look at details. Providing the zoom feature is a proven way to increase sales. Use lifestyle shots or show scale only for secondary images. Don't forget to use your primary keywords in the file name and alt tag, as well.
This is one of the most critical factors in ranking for particular searches and helping the buyers understand the product they are looking to buy. Amazon has a title formula for every category. For example, a particular type may require the product color, brand name, model, and size, all in the title. Focus on readability, include vital information, and avoid marketing phrases.
Amazon's terms of service state that bullet points and description aren't necessarily significant in ranking organically on the site. However, with m-commerce becoming the norm today, you may want to focus on the description, which appears above the fold, and bulleted lists are a more organized way of constructing your product descriptions. This way, your customers can instantly view the specifications of the product without having to scroll down for too long. 
In Amazon, you don't need to repeat words to increase page relevance for the term. There's also less emphasis on the sequence of words in a phrase. It understands each word in the phrase and considers all combinations that may be derived from it. For your part, you can put words in the order that makes logical sense.
You should also utilize every keyword possible in the structured keyword area. It can fit seven words per text box, allowing you to stuff them with every possible relevant keyword.
This will help buyers filtering their searches. Make sure that your listings have all the relevant filter items, such as color, size, organic, BPA-free, and others. Utilizing filter terms will help your products appear in relevant search results. Supplying these data could help your product become Amazon's Choice for a set of filters. Of course, you're helping buyers narrow down their search, too.
Other standard keyword optimization techniques that you can follow are:
Use primary keywords 

Ideally near the beginning of the meta title and SEO meta description
In at least one subheading
In the first paragraph of the copy
Near the end of the page
In the permalink

Primary keyword density is at 2%
Use semantic search phrases to reinforce topic and primary keyword
Use all secondary keywords at least once
Have between 300 and 10,000 words of content
Permalink is less than 128 characters
Meta title is unique with less than 66 characters 
Only one meta title tag on a page
Meta description is less than 320 characters
Put high-quality outbound links that lead to related content
5. Make sure your website loads fast—on desktop and mobile
During the 2017 Prime Day, it was found that the average loading time of Amazon pages for desktop was 2.3 seconds and 1.14 for mobile. There's no denying the impact of fast page speeds in the conversion process, especially considering that the modern consumer isn't too keen on waiting on slow-loading pages and will quickly move on to the next.
Some of the steps you can take to make sure that your product pages load quickly is to (a) cut a few bytes from it to make it lighter to download on the browser; (b) minimize third-party hosts or other elements; (c) use content delivery networks, and; (d) design it in a way that core content loads first than the non-essential items. More importantly, you can let professionals run a speed test to advise you on other techniques.
Another thing to consider is mobile adoption. The total m-commerce sales in 2018 were at $1.80 trillion and are still expected to grow over the next few years. Many voice-powered searches are done through mobile, and not having a responsive mobile site could mean lost sales. Work with an experienced web developer and get things going.
6. Improve your social media visibility
Since Alexa can be used to do many things, including making voice search queries, it can reply with different kinds of results, too, such as editorial content. Human-made recommendations can "help customers on Amazon with product research and discovery, by bringing them helpful content from third-parties," according to a spokesperson for the company.
These third-party publishers may also include social media sites. When your business is active on social media, not just in Amazon, you may eventually help your prospects find your products and services and increase your sales. Post useful content on Twitter, Instagram, Facebook, and other sites you prefer daily. Not only will this help attract voice searchers, but it can also make you look more credible.
7. Partner with Alexa SEO experts 
Learning how to optimize your Amazon product pages, as well as other websites, is easier when you're working with professionals that can offer the best Alexa SEO services. It's a lot safer when you get a third-party to do SEO for you, instead of doing it yourself, especially since voice search is new territory. Having a voice search SEO partner is a wise investment that can help you improve conversions and, eventually, grow your business.
Help Alexa Find You Now
Amazon may have kick-started the dominance of e-commerce, but even outside of the website it's apparent that the industry will continue to grow especially with the rapid advancement and adoption of voice tech. You can expect more e-commerce platforms in the future, but it's foolish to overlook Amazon's current winning streak and not take advantage of it for your business.
Continually optimize your Amazon pages and aim to be the top recommendation for your chosen keyword. In time, you may be deemed worthy of being Amazon's Choice and become the answer picked by Alexa.