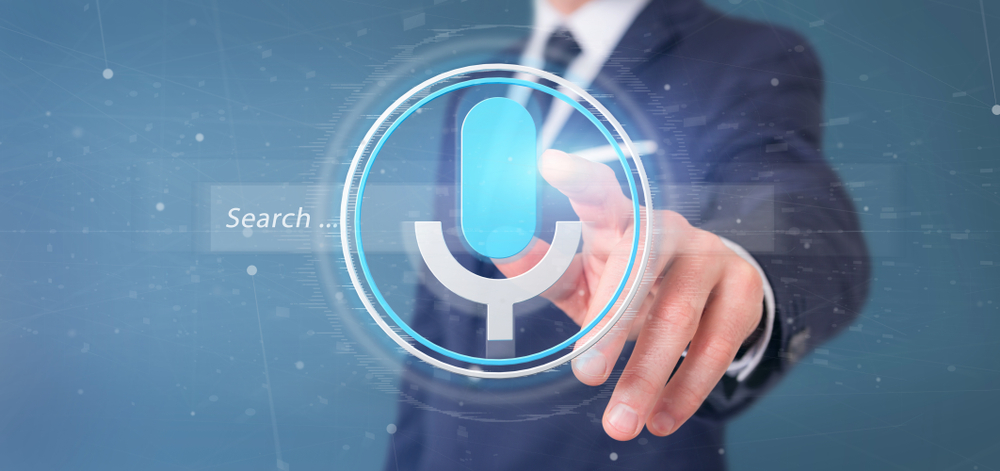 Getting to know your customers is one of the most critical components of running a business. Their behavior, preferences, and feedback are what powers the actions of your company, from marketing to developing an entirely new product or service. This is why a lot of study goes into buyer personas, making sure you reach the right audience and perfecting the message you want to get across to them.
With technology ever-present in your customers' lives, you should be aware and updated with any changes as to how they interact with information and decide on their purchases online—case in point: the voice search revolution.
Voice search is no longer a thing to look out for in the future—the tech is already here and is being widely used. It's predicted that by 2020, 50% of all online searches will be done by voice. This means somewhere around half of your target market could be looking for you through this channel.
How Voice Search Impacts Businesses
Voice search is one of the many products that promote the lessened use of touch or text input to accomplish a task. There's the case of face authenticators on smartphones now, as well as payment systems integrated on apps. Technology is finding ways to speed up ordinary tasks, and people around the world are slowly adapting—41% of adults use voice search every day.
A study revealed that voice search is 3.7 times faster than typing. This translates to a person being able to speak 110-150 words a minute versus 38-40 words when typing. When using voice search, the individual is more likely to ask a query in full sentences rather than keywords. This can impact the discovery of businesses and the way online brands serve information, also known as SEO and content production.
Why is SEO crucial here? When using voice search, the digital assistant presents only one result to the user compared to ten blue links on a search engine results page. This means if your content is not well-optimized for voice search, your site won't see the light. Thus, you have to implement voice search optimization techniques so that you can continue to rank, even for voice-based queries.
The voice search revolution cuts across plenty of industries. Check below if you're one of the frontrunners to be affected by this shift, and why you should start optimizing today.
Industries That Need to Optimize for Voice Search
E-commerce
E-commerce is a massive industry. Retail e-commerce sales have already reached $3.5 trillion this 2019 and are projected to rise to $4.9 trillion in 2021. It has transformed the industry into a global marketplace, as international shipping options have made companies more accessible to users anywhere in the world. Understandably, this means the competition is cutthroat.
Couple that with the fact that shopping is probably going to be one of the most popular tasks that can be accomplished through voice search. 50% of voice search device owners have made a purchase with their gadget in 2018. Voice search is also being used for the discovery of e-commerce or physical stores. Many companies have probably already noticed that the number of their voice search inquiries have been increasing.
One of your primary goals as an e-commerce site is to make sure that your site shows up when someone does a voice search query for a business of the same nature as yours. For instance, one could ask, "what is the best shoe store in New York?" If you're operating that kind of business in the area, you want those voice assistants to mention your brand so you can be placed at the top of mind of your target audience.
Restaurants
Imagine this: There's a group of friends in a car, and they're trying to decide where to eat for dinner. One of them could easily ask their voice assistant for either the nearest restaurants to them, the best in their city, or give something more specific like a cuisine. The top results that the voice assistant will deliver will most likely be where this group will visit.
Food is another popular search query of users. There are already more than one million restaurant locations in the U.S. alone, and you want your shop to appear in the top results! It's crucial to optimize your local SEO for this as well so that the assistants can pick up your location and include you in the roster of results.
Automotive
Getting a car is one of the first big purchases that adults or families make. As of 2018, it was projected that international car sales reached 81 million units. With so many options to choose from, you would hope that your business would rank if a user were to ask where the nearest car dealership is in their area. This also includes car repair and maintenance shops in case cars run into issues in the middle of the road.
On a different note, cars also help bring the voice search technology to the public. In the U.S. alone, there are 77 million owners who have cars enabled with voice search assistants, which is currently more than the number of smart speakers owned today.
Healthcare
Voice search has penetrated 68% of healthcare's online presence, only second to the food and beverage industry. The healthcare industry is not just limited to location and doctor information on hospitals and clinics, but also online publications that offer medical information about drugs, illnesses, and more. Moreover, voice search is a great companion for patients who have mobility impairments or those who have urgent concerns that need to be addressed.
If you are in the healthcare industry, you should prioritize answering questions related to illnesses your product prevents or treats, the location information or availability of your products and services, your operating hours if you have any, as well as your emergency contact numbers. Gathering this information is critical during emergencies, and voice search can be a great assistant to access said queries in a faster manner.
Professional Services
Professional services pretty much cover a broad umbrella of independent businesses, from photography and graphic design to events management and writing services, to name a few. To be a frontrunner in your niche industry, creating an online portfolio and optimizing this web address is crucial. 93% of all online activity begins with a search, so you already know that you shouldn't skimp on creating brand visibility for your business.
Take steps to ensure that you won't get left behind in the voice search industry. You never know when a potential customer might be looking for you via voice search. The questions can go, "give me a list of makeup artists in my area," "who are the best wedding photographers in [country]," etc.
Real Estate
Real estate is an always-growing industry. People will never stop looking for new homes to relocate or settle into anytime in the foreseeable future. The global real estate market is expected to generate a revenue of $4263.7 billion by 2025, according to a report by Grand View Research, Inc.
Much like anything else you shop for, the digital age has allowed consumers looking for new homes to begin their journey online. This means voice searchers could ask "what's the best subdivision to live in [city]" or "what are available homes for rent in [city]" and expect tangible results from brokers and other online realtors.
Local SEO can work great for your voice search optimization tactics as well since people usually get very specific with their queries. There's a lot of room to explore here for your real estate business that you can tap into online.
Top Voice Search Optimization Tips
Refine your FAQs
Your FAQ page is a great place to insert exact match keywords that can help your brand visibility! You can start typing and answering questions a typical user would ask about your brand. You may even go so far as answering general questions related to your industry to help with further optimization. Place internal links to blog posts that explore the topics discussed in your FAQs, if applicable. Lastly, make sure that the answers to your questions are substantial or at least two to three sentences long.
Focus on Featured Snippets
Featured snippets, also known as Position Zero, are taking over search engine results. Where previously brands have worked to get the first spot, it seems like there's a new player in town. Google has a new featured snippet where it reveals the answers to the queries without the user having to click on a link. These featured snippets are likely to be the source of information for voice assistants when reporting the answer of the query of the user. A study already came out that 80% of Google Home results came from these featured snippets. This pushes the need to focus on creating content that ranks for Position Zero.
Use Structured Data Markup
Also known as schema, using structured data markup is essentially adding a vocabulary of tags/microdata to your HTML codes. This language will then help search engines understand what your website is all about. In effect, your rankings will improve since the crawling will be a more enhanced experience for the search engine. It's worthy to note that 75% of voice search results come from the top three results on SERPS. It doesn't take answers from just the first spot, further broadening the playing field.
The schema was developed by top businesses Google, Microsoft, Yahoo!, and Yandex to create shared technical jargon that SEO experts can use and refer to for better search engine optimization. There's a list of items that you can markup with the language to provide more information about it. It's a better way of getting search engines to index your site as well.
Focus on Local SEO
The ecommerce and restaurant industries highly benefit from local SEO, but this is definitely not limited to the two. 86% of people expect to see location information when they are searching online, and when looking for shops or restaurants on the go, they would much rather visit a business that they can hook up quickly to their car navigation app.
Even with traditional regular SEO, Google prioritizes ranking brands who have filled up their Google My Business listings, as this is a sign that your business has a verified address, and in hindsight, you're focusing on the needs of your consumers.
Choose conversational, long-tail keywords
As mentioned earlier, users can speak out longer search queries versus typing them down. This suggests that those who search using their smart speakers or voice assistants use conversational language when they ask their questions. With regular SEO, keywords to a query may read as "best shoe brands," whereas voice search SEO would favor the phrase "what are the best shoe brands in the US?"
There's a long list of trigger keywords for voice search, with the top three being how (8.64%), what (5.01%), and best (2.63%). If you include these in your longtail keywords, there are higher chances that your webpages will be favored by assistants when serving search results to users.
Optimize for top voice assistants
Siri, Alexa, and Google Assistant all have unique requirements for successful voice search optimization. It's worthy of learning about the nature, similarities, and differences of each. For instance, Alexa uses Bing as its search engine when serving results—not Google. This info will make you revisit your strategy and be more inclusive towards other search engines versus just dumping all your budget on Google Ads.
Voice Search is Here
Optimizing for voice search should be a high priority for your business, regardless of whether you have a brick-and-mortar store, or you run entirely online. The changes in consumer behavior are not limited to the six industries above, and you will likely see more types of businesses affected by the voice search shift. After all, people will still be looking for answers online, as the internet is now the go-to source for information.
Voice search SEO borrows some tactics from regular SEO, but there are nuances in place that only experts will know. If you're ready to implement this new tactic, you can reach out to professionals like Voice SEO to help you hit your goals and KPIs. Voice SEO specializes in voice search optimization and has all the tools and experience you need to execute your vision.
The competition in business will only become more aggressive over time. So, jump at the chance to oust your competitors now while you still have the upper hand!