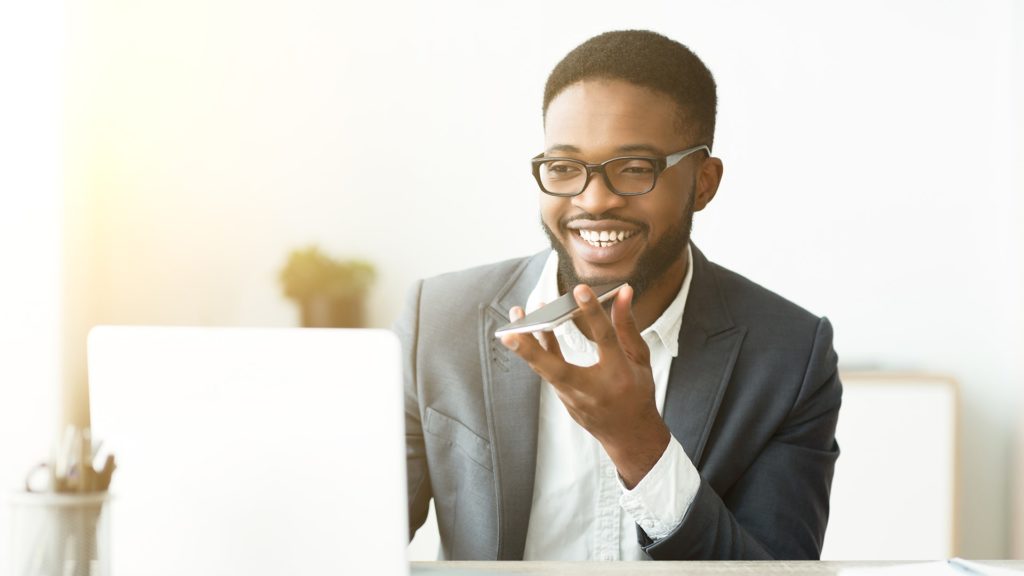 In the not-so-distant past, people would conduct a search on the internet by typing their query in the search box, but that has since changed when voice search technology and smart assistants emerged.
Now, digital assistants like Siri, Alexa, and Google Assistant make it possible for people to discover content and find answers to queries without physically typing on their keyboard. Instead, users speak into their device to perform a search on the web.
This technological shift presents some major implications for the search engine optimization (SEO) landscape. Check out these quick stats and facts:
All these data show that voice activated search is fast becoming the hottest technology that search engines and consumers prefer to use. This only means that optimizing your website content for voice search should now be a major component of your digital marketing strategy. Through voice search SEO, you're increasing your chances to attract more highly engaged visitors to your site.
What is Voice Search?
Voice search pertains to when people speak into a device to look for something online as opposed to typing keywords into the Google, Bing, or Yahoo search box.
Voice activated search is possible thanks to advanced speech recognition systems, which help digital devices and assistants understand what users are saying with utmost precision and accuracy.
Why You Should Care About Voice Search Optimization
Programs like Alexa (Amazon), Cortana (Microsoft), Google Assistant, and Siri (Apple) all support voice search. Although they are powered by different technologies, the principle is the same—users ask their device and the smart assistant will provide them with the best answers.
Keeping your website optimized for voice search gives your business a better chance to be part of the top results when these smart assistants receive voice queries. To optimize for voice search means making your content more conversational, natural, contextual, localized, and accessible for mobile users. Remember: people don't speak in the same manner they type.
Paying attention to voice search SEO can help you reap a number of benefits, including:
Better ranking opportunities. With more and more people taking advantage of voice search capabilities, Google and other search engines are favoring websites that provide information or content quickly and conveniently.
Higher visibility through featured snippets. When your content shows as a featured snippet on Google, it's an indication that you've addressed search queries well enough to be given the top spot in SERP.
Meet query intent based on context. As you'll learn later, voice search optimization strategies include creating locale-focused content to make it easy for your website to serve timely and relevant response to users.
Top Voice Search Optimization Strategies
Be sure that your business is ready for the voice search revolution. Follow these strategies to make your business website well-optimized for voice search.
1. Use the right keywords.
The way people process their thoughts through writing is different from how they verbally express what's in their mind. Similarly, those using a keyboard to type in a search query will phrase it differently than if they used their phone's voice assistant. One searcher will ask a question using umbrella terms, but another will be including more words that provide context to the search.
In traditional SEO, top-ranking keywords are used. But in voice search SEO, the same keywords are structured as a question, and sometimes even rephrased into relative terms. For instance, a tourist in New York is looking for top restaurants to visit in the city. When using their browser, they may type in "restaurants in New York". But if they're using voice search, they will simply say, "What are the restaurants near me?"
How to Optimize for Voice Search
Go for long-tail and conversational keywords in your content, using standard language that people use in real-life situations. This is in contrast to using short keywords that are best suited for desktop search.
Include question phrases, focusing on the types of questions that customers ask when they want to know more about a business, product, or service.
Start question phrases with interrogative pronouns (Who, What, Where, When, How, Which, Whose) to make it easier for you to answer natural language questions.
Use question phrases to determine a user's search intent. For example, when people start asking "When/Where" questions, it might be a signal that they're ready to act or buy compared with those asking "What/Who" questions, which might signal that someone is still on the early stage of the buyer's journey.
2. Create FAQ pages.
Your daily interactions with customers can be a good foundation for creating your website's frequently asked questions (FAQs) page. Each time a customer contacts you to ask questions, it gives you an opportunity to understand their chief concerns and how they want to conduct business with your company.
Here are specific ways that having an FAQ page can benefit both you and your customers:
It allows you to educate people about your business policies.

Tip: Use the FAQ section to assure customers that you won't be storing their credit card information after they've submitted it for a particular order that they're trying to place.

It enables visitors to find answers to specific questions they might have about your website, product, or service.

FAQs are a great way to empower customers to solve their questions or concerns on their own without having to go through customer service. This also means your system won't be flooded by customer support tickets.

It can help you lead customers toward the path to conversion or purchase.

With all their questions answered, you can eliminate any obstacle that may dissuade customers from choosing your business.
How to Use FAQs for Voice Search
Traditional FAQs are those where companies list information about their business in the typical question-and-answer format. This format isn't effective because it limits the type or amount of information that you provide to customers.
With the emergence of voice search technologies, you have an opportunity to use FAQs to address common customer concerns. This makes it important for you to review your FAQs to make sure they're comprehensive enough and that they match the way people are seeking information online. These ideas may help you:
Use long-tail phrases to make your FAQ pages sound as natural as possible. This helps search engines distinguish your FAQs from your site's content when serving search results to users.
Create different FAQ categories by grouping similar questions on the same page. Your categories may be based on a central theme, specific stages in the buyer journey, or relevant keyword phrases. This way, voice search assistants or tools will find it easier to pull the right information for your site's visitors.
Break down complex pieces of information into more digestible texts. Ideally, content for your FAQ should be written in short paragraphs using simple words, much like how you would write for a 9th-grader.
Expect highly specific searches from voice users. This will help you tailor your FAQ pages' content to provide more direct answers to customers.
3. Use structured data.
Another way to optimize your website for voice search is by using structured data—a form of metadata that you can embed into your website's HTML code. Also known as schema markup, this data contains secondary information about your content, helping search engines classify and contextualize your content better.
What are the benefits of using structured data on your website?
You can add structured data on your web pages to help bots understand how your content matches search queries.
For example, a recipe page will add structured data, such as user ratings, calorie content, and cooking time, among others, to help search engines decide if that recipe is relevant to what users are searching for, and therefore, should go to the search results page.
Using these schema markups can also enhance your content's visual appearance in the search engine results pages (SERPs) or transform your meta descriptions into snippets, making your content look more attractive for users.
In the same manner, structured data helps you set up your web pages for voice search SEO by looking for context clues that match specific queries.
How to add structured data
There are different ways that will allow your webmaster to add specific information about your site and its content using tags or microdata.
Through a plug-in. Your content management platform comes with plugins that allow you to create and add schemas to your web pages.
Through Google's Structured Data Markup Helper. This is a free tool that lets you mark up your content—from blog posts to product pages or reviews and business listings—with different properties to help Google understand your content and offer richer search results to users.
Through schema.org. Tech giants Google, Microsoft, Yahoo, and Yandex founded this online hub of schema vocabularies that you can use to help your site's visitors see the different elements of your content when viewing search results.
Through manual addition. This is for when you want to be more specific in creating or generating schema types, which your tools aren't able to support.
4. Focus on local SEO search intent.
Mobile devices are proving to be useful for people who are conducting an online search, including voice search. Out of voice queries, 22% pertain to local search. This means that people on mobile are asking questions about nearby businesses. "Which pharmacy in Area A closes last?" is a typical example of a local voice search.
One way to make sure that your site's content is accessible for voice assistants is by implementing geo-targeting keywords (such as the ones listed below) since they can help you address location-based queries.
Phrases that people use to describe the local neighborhood or community
"Near me" phrases in your title tags, meta descriptions, internal links, and anchor texts
Identifiable landmarks around your business location
Names of local institutions that are relevant to your business
Aside from using the right set of keywords, you can also claim your business listing on Google My Business. This strategy involves verifying your contact information, so that Google users nearby can locate your business or see your business profile on Google Search or Maps. In addition, by verifying your business, Google lets you track your business's analytics to help you understand your customers as well as respond to customer reviews on your website.
How to Use Google My Business Listing
Creating your listing on Google My Business takes little time and effort, but it can boost your ranking in the search results when there are voice searches pertaining to locations or local businesses.
Indicate your business name, address, and phone number on Google My Business listing. Make sure the information you provide is accurate, up-to-date, and consistent with other business directories.

Why is this important? Any discrepancy in your contact information can negatively impact the local search results for your business.

Specify a category to describe what your business is, not what you're selling or offering. If your business is leasing cars, the correct category to use is "Car Rental" and not "Compact cars" or "Sedan cars."

Why is this important? Although Google will proactively tell you if it's unable to understand the category you want to be associated with your business, choosing the wrong category can result in your business not showing on the voice search results.

Optimize your business profile by including information about areas you serve, opening and closing hours, special attributes (such as "women-led" or "wheelchair accessible") as well as photos of your business.

Why is this important? An optimized business profile can bring more traffic to your website and encourage people to visit your physical stores.
5. Make sure your website is fast.
People who use voice search are always on-the-go and want immediate results for their queries. Ideally, your web page should load in 3 seconds or less, or you might suffer from poor ranking in voice search because of speed issues. There's an exception to this rule though, as Google may still give you a favorable ranking in search results if it finds your content the most relevant from among other slow loading websites.
It's worthy to note that page speed was used to rank websites only in desktop searches, but Google has decided to apply the page speed criteria for mobile as well, where voice search is usually done.
How to Optimize Page Speed
Check any issues with themes, plugins, or any other integrations on your site, which might prevent your site from being responsive or working well on mobile.
Invest in a good web hosting service that can give you access to high-speed internet connection.
Rid your website of bad source codes—white spaces, new lines, redundant formatting, and the like—to enable you to create smaller web files that load fast.
Determine a good schedule for browser caching. Google recommends a minimum cache time of one week and up to one year for static assets, where changes aren't that frequent.
Use optimizers or similar tools to make your images and files more compact and lighter.
It's a New Era for SEO
Trends and technologies are ever-evolving, with voice search slowly but surely reaching the top of the totem pole. This calls for you to match the keywords, language, and tone that voice searchers are using to look for content, as well as implementing mobile-focused strategies to land your business on top of SERPs.
Since voice search SEO is quite different from traditional website SEO, you need to have a thorough understanding of the different methods you can use for your site to rank on voice search. Once you've implemented the best practices in voice search optimization, you should keep testing and monitoring your site's performance as well as anticipate future trends and updates to make sure that your business stays relevant to the times.